Winery Equipment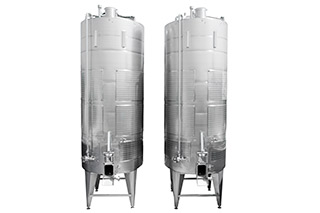 Agrometal winemaking technologies with more than 30 years of experience.
Wine processing plant planning, production, construction, development.
Modern winery technology.
Custom stainless steel wine tank for winemaking (wine fermentation tanks, insulated tanks, pressure tanks).
Turnkey wine processing plant.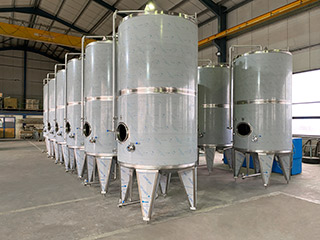 Manufacture of wine tanks
-From 10 hectoliters to 1000 hectoliters.
-Jacketed with laser welding robot.
-With automatic length and circular welding.
-Design and manufacture of unique tanks.
-Short production deadline.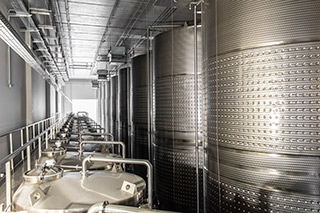 Technological planning of wine projects
- Grape reception, destemmers , crusher machines.
- Design, manufacture and installing of fermentation, cold treatment, maturation and storage tanks.
- Universal cross-flow filters for must and wine treatment.
- Liquid cooling systems.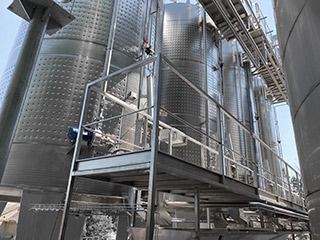 Construction
- Design and commissioning of technological pipeline network, cooling, heating, nitrogen and carbon dioxide networks.
- Automated technological processes with control.
- Turnkey technological installation, commissioning.
- Operator walkways, railings, spiral stairs, operator interfaces
Wine fermentation tanks with round excavation and flooding system with bottom excavation
- Door opening with pneumatic guillotine.
- With controlled cooling / heating jacket.
- With controlled fermentation temperature control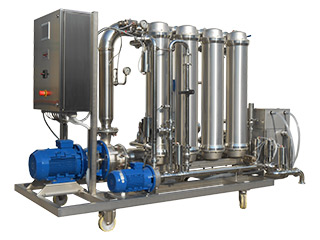 Universal Cross-Flow filter to filteri the wine
- Filter system for the most demanding winemakers.
- Mechanical and microbiological filtration before fermentation.
- It is also suitable for filtering new wines with a broom and wines blended with a clarifying agent (eg bentonite).
Grape reception and processing
- Grape receiving hopper with spiral leaf vine conveyor, pneumatic door control.
- Destemmers & crusher machines.
- Digital weighing.
- Automated, controlled mashing machines and piping systems.