CIP (Clean In Place) system
CIP (Clean-in-Place) is an automatic cleaning process that involves the cleaning of machines, equipment, tanks, pipelines without need of dismantling or removing them from their place. The aim of this process is to ensure a healthy environment, free of traces, bacteria, germs and other contaminants, in the production of food and other products.
Typical applications of the CIP washing centre and CIP process:
– Food Industry
– Pharmaceutical industry
– Beverage industry
– Cosmetics industry
Components of the CIP system:
– Items suitable for CIP washing
– CIP washing centre
– Supply and return piping
Advantages of the CIP system compared to the traditional rinse and wash process:
– Effective cleaning
– Economical water use
– Economical use of detergents
– Environmentally conscious technology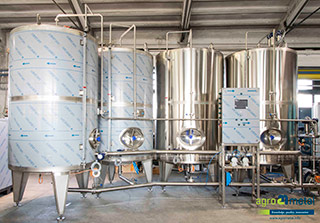 Design, manufacture, installation and commissioning of CIP Systems
Agrometal builds and tests its proven CIP equipment in its assembly halls in Hungary. Whether it is a new cleaning system or an extension of an existing one, the Agrometal engineering team can design the CIP system also in the case of individual needs. Agrometal has already installed CIP systems in many foreign countries such as Azerbaijan, Russia, Germany, Kazakhstan, Romania, Mongolia, Ukraine, Slovakia, Lebanon, Iraq, Finland, Norway, etc.
The automatic CIP system:
The typical parameters of the equipment and processes can not only be checked in real time on the plant's computer, but the stored data can also be retrieved, analysed and displayed in graphs. Users with the appropriate authorisation can contact the plant from a remote location and check the operation of the plant and intervene if necessary.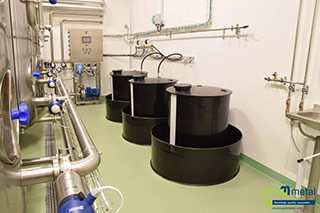 CIP automatic acid and alkali dosing, re-storage
The insulated stainless steel acid or alkali tanks can be heated and, in the event of regeneration, filled automatically or on operator command from the chemical storage tank. Alkaline solutions usually contain sodium hydroxide or calcium hydroxide, whereas acid solutions contain nitric or phosphoric acid. The CIP station automatically draws water from the mains. The automated refilling feature and the circulatory washing system result in cost efficiency.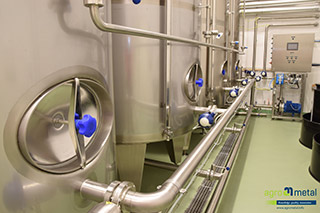 CIP washing
Process steps of a typical wash:
1. Preliminary rinsing (cold or hot water)
2. Chemical washing: alkali (daily) and acidic (weekly or less often)
3. Rinsing with water, usually at ambient temperature.
4. Disinfection (if necessary)

Mobil (CIP) Clean In Place system
The mobile Clean-In-Place (CIP) system is a mobile cleaning equipment that allows flexible and efficient cleaning on-site where the process takes place, as opposed to a fixed CIP system, which is usually used to clean and sterilise larger process stations and process systems. Both systems play an important role in ensuring that the cleanliness and hygiene standards of the plant are met. It is usually used in 1 or 2-tank design and has the disadvantage of requiring more labour work and manual handling.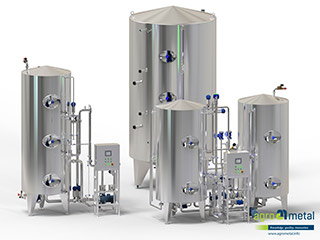 Multi-level CIP tanks:
The advantage of multi-level CIP tanks is that they are space-saving, allowing more economical use of space, and can be produced in a wide range of versions optimised for the task. Because of their size, they are mainly suitable for cleaning smaller plants. The largest multi-level Agrometal CIP tank ever built has a capacity of 3*4000 litres.